Intranet as Groupware
An Intranet Best Seller at Amazon.com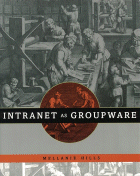 Published by John Wiley & Sons
Build groupware capabilities into your intranet without expensive commercial groupware products.


Intranet technology is an inexpensive and easier-to-use alternative to groupware products like Lotus Notes and GroupWise. But simply installing an intranet doesn't automatically endow an organization with collaborative computing. In Intranet As Groupware, you'll learn how to take that next crucial step. With the experiences of 13 leading companies, including JCPenney, AT&T, Bell Atlantic, EDS, Texas Instruments, and Turner Broadcasting, this book:

| | |
| --- | --- |
| | Shows you what you can do with groupware on the intranet |
| | Examines intranet groupware products as well as web-enabled proprietary groupware |
| | Provides step-by-step guidelines and checklists for planning and implementing intranet groupware |
| | Discusses how to overcome the people and change issues that make groupware difficult to implement |
Chapter 1: What Is an Intranet?
Chapter 2: Why Have Organizations Created Intranets and What Are the Advantages and Disadvantages?
Chapter 3: How Will Intranets Change You and Your Organization?
Chapter 4: What Is Groupware and Why Do You Need It?
Chapter 5: How Do You Use Groupware?
Chapter 6: Intranet Groupware and Workflow Products
Chapter 7: How Do You Choose Intranet Groupware and What Are the Advantages and Disadvantages?
Chapter 8: Building Your Intranet
Chapter 9: What's So Hard About Groupware?
Chapter 10: Two Approaches To Implementing Groupware
Chapter 11: The Impact of Groupware and Workflow
Appendix: Groupware and Intranet Resources
Checklists for downloading (Word 6.0 format)
Chapter 7: Choosing Intranet Groupware
Chapter 10: Implementing Groupware

You can order Intranet as Groupware from Amazon.com.

Other Information
Mellanie Hills is also the author of Intranet Business Strategies, another intranet best seller at Amazon.com. You can hear the author speak at these conferences and events.