Healthy Living Newsletter - Volume 1, No. 10
Issue Date: June 24, 2004
Publisher: Mellanie True Hills, The Health & Productivity Revitalizer
The Healthy Living Newsletter brings you health updates and tips for optimizing your life, health, and work.
This week, we'll examine the following topics:
Update for Women
Diet Wars: Low-carb vs. Low-fat - Survey Results
---
1. Update for Women
New news - the Journal of the American Medical Association reports that about 78% of women carry a variation of the ESR1 gene. After adjusting for other risk factors, those having that gene variation have twice the risk of heart disease after menopause than non-carriers. Since almost four-fifths of women have this variation, it's probably safe to assume that you do, too.
Implication for women: If you have this unavoidable risk factor, it's advisable to eliminate any avoidable risks (smoking, high cholesterol, high blood pressure, overweight, sedentary lifestyle, and high stress).
FYI, for men in the study, there was no correlation with heart disease, and having this gene variation may have actually decreased their heart disease risk.
Here is yet again another case where women are medically different from men.
---
2. Diet Wars: Low-carb vs. Low-fat - Survey Results
Speaking of risk factors, diet is a controllable risk factor. Thanks to all who participated in the diet survey in the last issue. Though it was an unscientific survey, the results were very interesting.
The survey went out not only to readers of this e-zine, but also to another distribution list that I maintain (all female). I've also included responses from a posting I made to the WITI (Women in Technology International) discussion forum on this topic. Therefore, a high percentage of responses came from women.
In all cases, I asked you to reply regarding which diet you were on, if any, and to share your experiences from it, including your diet's effect on health measures such as cholesterol and blood pressure. The chart below shows the results.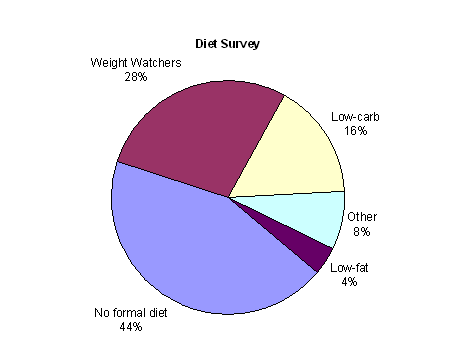 Recap:
No formal diet 44%
Weight Watchers 28%
Low-carb 16% (Atkins 50%, South Beach 50%)
Other 8%
Low-fat 4%
I fully expected, based on what we hear in the media, that a large percentage would be on a low-carb diet. I was surprised that low-carb diets were listed in only 16% of responses.
The largest percentage (44%) listed no specific diet. Many, however, discussed their own approaches to healthy eating, including smaller portions, focusing on more fruits and vegetables, and eating less meat and dairy.
The biggest surprise was the 28% following Weight Watchers. Many had abandoned other diets and are now happily maintaining their weight with Weight Watchers. Several referred to Weight Watchers not as a diet but as a Life Plan for eating.
I was not surprised that the response was so low for low-fat diets. Interestingly, though, those listing no particular diet often described a plan that was similar to a low-fat diet.
The detailed comments about diets and results are even more interesting than the overall percentages. For the sake of brevity here, I've included the more detailed comments in the on-line version of this newsletter
Here's a flavor of what I heard from you regarding diets and eating plans, as well as their results. These are summaries, not exact quotes.
Atkins (Low-carb):
Low-fat didn't work for me in running marathons, as I had no endurance and stamina. I did low carb on my doctor's recommendation. Now, I not only have endurance for marathons, but my cholesterol and blood pressure are also the lowest ever.
I lost 48 pounds on Atkins and have maintained it. In addition, my cholesterol & blood pressure are down.
South Beach (Low-carb):
It works for me because it's both low-fat & low-carb. I get more fruits & vegetables than Atkins.
It's healthy because it focuses on minimal saturated fat & processed foods, and lets you have lots of low-fat foods and moderate amounts of whole grains.
Weight Watchers:
WW is a Life Plan. I've been on it for 3 1/2 yrs and have lost 50+ pounds. I can make choices of what to eat. I usually eat fruits and vegetables with a small portion of meat. If I want a glass of wine, I can have it.
On Atkins, I lost 18 pounds in 2 months, but I dreaded meals as I prefer veggies to meat. When I stopped Atkins, I regained all the weight in 1 month. Now, with WW, I have reached my goal and have maintained it. I'm in control and know how to manage my weight.
I lost 21 pounds on Weight Watchers. This is the first time I've chosen to stop losing rather than hitting a plateau that I couldn't break through. I choose to eat low fat as I can get more food. My cholesterol and glucose are both down as a result.
I use the online version of Weight Watchers – it's easy and less expensive than attending the meetings.
No formal plan:
South Beach was difficult to stay on, so I just eat breakfast, and have a smaller lunch and dinner.
I lost 80 pounds from eating smaller portions of a balanced diet, and getting lots of exercise. I've kept it off for over a year.
I simply cut back on quantities when the scale starts going up.
I avoid diets and scales, sticking to a balance of healthy foods and exercise.
I don't do diets – I follow the USDA food pyramid.
Other:
"How Sugar Makes Us Crazy, Sick, & Fat", by Joan Ifland.
"The Detox Diet", by Dr. Paula Baillie-Hamilton, through Shaklee.
Gastric bypass – it's wonderful.
Low-fat:
I stick to low fat (minimal meat and dairy) with lots of fruits, veggies, and some whole grains.
---
I'll be including even more of the diet survey details in my upcoming book, A Woman's Guide to Saving Her Own Life: Seven Secrets to Health, Happiness, and Success.
---
Until next time, wishing you all the best,
Mellanie
Mellanie True Hills
The Health & Productivity Revitalizer
Speaker, author, consultant, and coach

PS. If you would like to have Mellanie speak at your meeting or to your company, please check out the video clip of my story from a recent speech. Mellanie also coaches individuals in creating healthy lifestyles and consults with organizations in creating healthy and productive workplaces.
---
If you would like your own copy of this newsletter, just subscribe above.
You may reprint this article in your publication or company newsletter by including attribution, copyright, and contact information. Please send us a copy. Thanks.
Copyright 2004 Mellanie True Hills Company. All Rights Reserved.